The OSET 24.0 Racing -  Possibly the most fun electric dirt bike ever created for adults and teenagers

ENQUIRE NOW OR CALL US ON 970-240-5984 
This is the ultimate versatile machine and appeals to a vast range of ages and riding interests. From youth and adult trials riders, mountain bikers, and parents following their youngsters to a pit bike, dirt bike and a back garden training machine. This bike suits so many and offers the maximum entertainment value.
The 24.0R has spent a lot of time in the hands of a team of expert riders including,  Oliver Smith, Chris Northover, Pat Smage and Jack Field – all pro  riders with tens of millions of YouTube views between them.
These are very advanced riders pulling some big moves! At the same time, the adjustability allows the bike to be used in more gentle situations, with learner riders taking their first steps into the world of electric motorcycles. 
Key Features:
Lightweight 19" trials tyres front and rear, the reduced weight gives more power, more run time, and results in a taller, lighter bike more suited to trick riding.
Suspension is set for teens and adults up to 90kg (198lbs).
20ah high output OSET lithium battery
Adjustable full-length RST forks, DNM rear shock and Avid hydraulic brakes with a 180mm discs front and rear.
The motor is a new 1400w OSET unit with hardened sprockets and strong chain.
OSET controller - a high power unit and features the familiar 3-dial adjustability, so the power, speed and response are fully adjustable to suit the rider.
Magnetic lanyard adds a level of safety and is competition legal.
For adults and teenagers
MSRP: $4399.00
Best bits of kit on the market, love everything about it! - Colin Steele
The OSET 24.0 Racing is a serious bit of kit! Designed for thrill seekers and off road explorers. A truly ground up design that take's the rider you to new territory and heights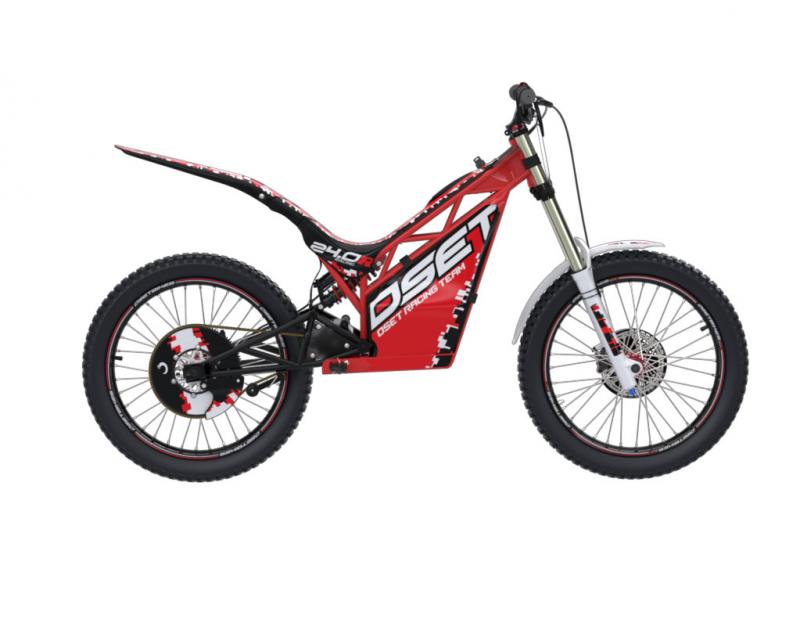 Technical data
| | |
| --- | --- |
| Wheelbase - 1215mm (47.8''). | Seat Height - 670mm (26.4''). |
| Ground Clearance - 315mm (12.4''). | Handlebar Height - 1090mm (42.9''). |
| Wheels - 19'' x 1.4'' Alloy rims/hubs | Suspension - Front telescopic spring fork, Compression adjustment & oil damping. Rear shock, preload & compression adjustment, oil damping. |
| Bike Weight - 46.8kg (103.15lbs) | Brakes - Front 180mm & rear 180mm hydraulic disc. |
| Motor - 1400W 48V OSET neodymium magnet DC motor. | Controller - 48V OSET with thermal cut-out, adjustable for power, speed & response. |
| Batteries - 1 x OSET 20Ah, 48V Lithium battery, with charging, discharging & diagnostic ports. | Charger - 3 amp 48V, Lithium Ion. |
| Rider Weight Limit - 198lbs (90.0kg) | MSRP - $4399.00 |
Find your nearest dealer